eScript
Help The Winston School raise money every time you shop.  It's easy! It's quick! And it's FREE!
Now you can support The Winston School by shopping on line!  All you need to do is click on the eScrip Shop On Line Icon below.  You will be able to shop from 1,000's of the same stores websites that you already know and trust. Once again the best part is it is FREE!  You will earn money for programs at The Winston School simply by shopping as you normally would.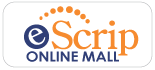 REWARDS CARDS
To sign up with eScrip is easy!  If you already use a Rewards Card at a Store, such as Ralphs, Vons, Safeway, etc. all you need to do is download and fill out the information on the form. Just provide your name, address, phone, email, store and card number and we take care of the rest. Just return the form to school.
If you do not have the card available or do not know your card number it will be printed on the store receipt. If not, there will be a phone number to call on the receipt and they will provide you with your rewards number. Of course if you don't have a Rewards Card it is easy to sign up at your local store.
Once you have signed up for eScrip you are done! Now every time you shop Winston earns money to support its programs. The best part of it all is it is FREE to you!
GROUP ID: 500016358